Golf carts are vehicles that were originally created to carry golfers around a golf course to avoid the hassle of walking from one hole to another. It also benefits golfers in a sense that there is no need to drag golf clubs around when walking. And while it was originally made for that purpose, golf carts have recently gone from golf courses to the streets. Some communities have resorted to using golf carts; and because of its growing popularity over the years, most households now own one or two golf carts to carry them around short distances. Now, you may be wondering how much golf carts cost.
A golf cart could cost you anywhere from $4,000 to $15,000, or more. And because of its skyrocketing prices, most would resort to purchasing used golf carts.
But how much does a used golf cart cost?
Used Golf Carts Average Cost
Used golf carts prices, on the average, would be around $1,500 to $6,000. There are some that could cost you more than that but the average is something below or around this price range.
One example is Jenkins Motorsports in Lakeland, Florida that sells used golf carts for as low as $2,595 for a 2013 EZ Go electric golf cart. Their most expensive used golf cart, however, would cost you as much as $8,730.
Another example is a shop in Olathe, Kansas, RMI, that sells used golf carts at prices ranging from $2,150 to about $7,500.
Most shops would be substantially low in terms of used golf carts prices. One example is a 1984 Yamaha G-1 golf cart which costs $1,495 at the Virginia Golf Cars in Harrisonburg, Virginia.
And while their prices would play around $3,400 to $3,500, some of their used golf carts go up to $5,500. This is a 2011 EZ Go electric golf cart.
Different shops would have different prices. Ricky's Custom Carts, a shop with a location in Suffolk, Virginia and Elizabeth City, North Carolina, has prices ranging from $2,500 to $5,800.
Inclusions
There are two types of golf carts – electric and gas. True to their names, an electric golf cart is one that has rechargeable batteries. A good battery could usually last up to five years and it is being recharged every two to three days, or depending on your usage. Battery water levels should be checked at least once per month.
Now, aside from the batteries, it also comes with a charger; of which there are two types – the manual charger, and the automatic charger. The automatic charger, as per its name, turns off on its own once the batteries are fully charged; the manual charger does not.
Before purchasing an electric golf cart, make sure to ask the dealer or the person you are buying the cart from, whether the golf cart comes with a battery charger or not.
The other golf cart is obviously that which runs on gas. If you are planning to use your golf cart in traveling for more than 15 miles, this type of golf cart is for you. A gas-powered cart can hold to about five to six gallons of gasoline; a gallon of which can run for about 30 miles or so.
And while this may run longer than electric golf carts, you would be constrained to regularly refuel especially with frequent use.
There are also times when a dealer would clean up a used golf cart, check the machinery, re-paint and make sure even the smallest of scratches disappear and sell them as refurbished golf carts.
Refurbished golf carts are also way cheaper than new ones. You basically have a "new" golf cart that is sold at a low price. It also comes with a warranty, which is usually for a year. Ask the dealer before you purchase.
Other Costs to Consider
Some used golf carts do not come with batteries. And for those that come with it, the batteries may already be a few years old and so only has about a couple or so years of service remaining. For all you know, it could even be lesser than a year. Whichever the case may be, an extra battery would cost you about $600.
As previously mentioned, some used golf carts do not have battery chargers with them when sold. If your dealer tells you there is no battery charger included, a new one could cost you $500 or more.
Maintenance is an added cost, especially to gas-powered golf carts. Regular oil changes, oil filters, and refueling costs come along with your purchase of these types of golf carts. Gasoline alone costs about $2.5 per gallon, which, when multiplied by five or six gallons, could amount to about $15.
If you have decided to get your golf carts from another state, expect shipping fees to be an added cost. If it is within the area, delivery would be around $2. Anywhere else in the continental USA, it could be as much as $900, depending on where you are.
Buying Tips for Used Golf Carts
When purchasing used golf carts, you may want to check out nearby golf courses. This is because whenever golf courses upgrade their fleets, a batch is usually made available. You could probably head over to your phone right now and ask the golf course near you if they have plans of upgrading their carts anytime soon.
Remember, though, that used carts from golf courses are electric. If you are planning on getting gasoline-powered golf carts, you may want to explore other options.
Dealers get to inspect, clean, and do a complete overhaul of used golf carts and sell it for about $2,000 to $4,000. Way cheaper than a new golf cart! You can check with dealers near you for refurbished golf carts. They also come with a warranty of about a year or so.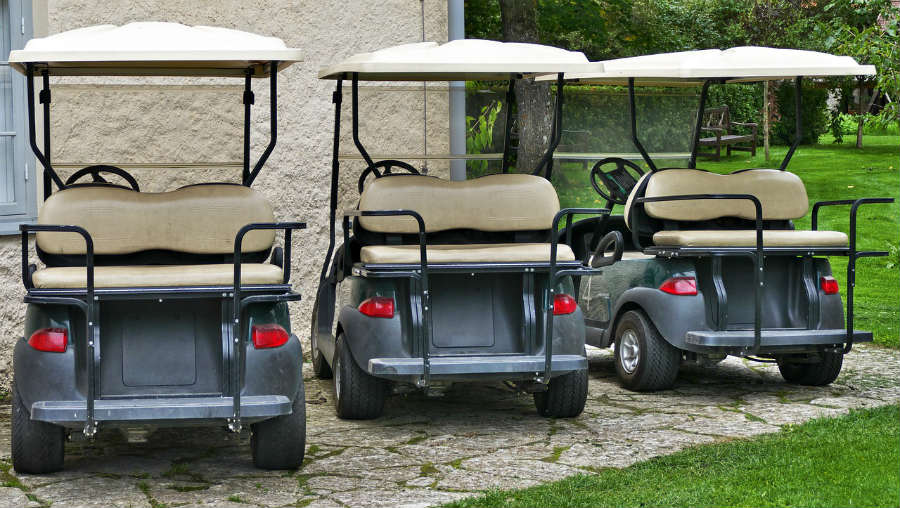 Used Golf Carts Cost Factors
How much does a used golf cart cost if it can seat only two? How much will it cost if it seats four?
The prices of golf carts, whether used or new, are always influenced by how many people they can seat. A used 2-seater would usually have a starting price of about $1,500 to $3,500 while a 4-seater could cost you around $3,900 or more. Remember that when it comes to used golf cart prices, the more people it can carry, the more expensive it would be.
When purchasing used golf carts, you also need to make sure of the cart's age. Golf carts that are about three to five years old would cost you about $3,000 to as much as $5,000. A six-year-old cart (or older) costs around $2,000 to $4,000. Remember, however, that while the older standard golf carts may be cheaper, you have to make sure that the parts are still of good quality.
It also follows that the newer the model of the cart, the more expensive it would be. Unless it's considered vintage and is already museum-quality ready for an exhibit, older models would usually cost you about $2,600 to $3,500. The 2016 to 2017 models would cost you around $5,000 to $7,000, or even more.
Some used golf carts come with more features and accessories than the others. The inclusion of a radio, custom wheels and the likes influence the cost of your used golf carts. Make sure to check what your cart includes and always check if these are accessories that you really need.
What Else You Need to Know
Some important reminders when purchasing used golf carts:
Always check the serial number. The serial numbers will reveal the age of the golf cart.
Make sure to inspect the golf cart and find out if there is any part that has rust, scratches, damages, or if the roof leaks.
You should also check the battery cables and the existing batteries for corrosion.
How much storage space is available for your things?
Are the tires of good quality? You can also ask the seller if you can take it for a test drive.
Good-quality brands are those from Yamaha, EZ Go, EMC, Gem, and Club.