A Tow Dolly is a mini-trailer that has two wheels and an axle, blocks, and ramps that hold the front wheels of a vehicle off the ground as it is towed by another vehicle. Only the rear wheels of the towed carrier settle on the ground.
It attaches to the towing vehicle like a trailer does, and then the tires of the car being towed are placed onto the dolly to be able to move the towed vehicle from one location to the next.
Also known as car dolly, tow dolly rental is ideal for relocating. This prevents extra mileage on your vehicle when you move from one place to another on a rental truck. However, in some rental companies, Tow Dollies can only be rented together with a truck that will serve as a tow vehicle and cannot be rented separately.
Average Cost of Tow Dolly Rental
The average cost to rent a car dolly is around $40 – $65, depending on location, if the trip is one way, or if the dolly is picked up and dropped off at the same site.
The tow dolly rental prices in some well-known rental companies are the following:
Budget Towing Rentals – Budget car dolly rental – $250
Tow dolly rental price for Budget Towing Rentals are packaged with a Budget Truck and cannot be rented separately. This means that you cannot pull using your own vehicle. So the total rental to include the Budget truck would be $731.
Penske Towing Rentals – Penske Car Dolly – $270
Just like Budget Towing Rentals, Penske does not allow their tow dolly rented separately from their truck. Total rental of tow dolly and truck costs $880.
U-Haul Towing Rentals – U-Haul car dolly – $319
Unlike Budget and Penske, U-Haul allows tow dolly to be rented separately, which means you have the option to use it with a rental truck or a personal car.
If you opt to use your personal car, you will be required to provide the make and model of the towing vehicle and the vehicle being towed. This will determine whether your vehicles are suitable for towing or not.
What is Included?
Tow dolly rental comes with safety chains and tie-down straps or cables. It usually takes two people to load a car into the tow dolly.
Additional Cost to Rent a Car Dolly
A lot of SUVs and pickup trucks come with trailer hitch which can pull up around 5,000 to 6,000 pounds. But if there are none, installing a trailer hitch on the tow vehicle would be around $150 to $800, or an average of around $450 to $500.
Most auto insurance policies only cover collision insurance on the tow vehicle but not on the towed vehicle. So if you prefer to cover the towed vehicle with collision coverage, expect to pay an additional cost on top of the tow dolly rental price.
Also, include in the budget the tow gear and fuel needed.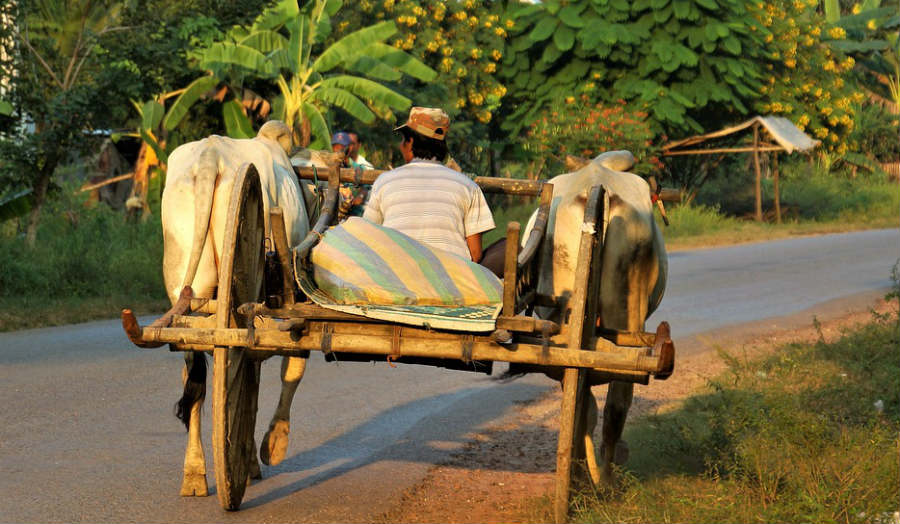 Facts
Tow dollies are the best for towing front-wheel drives. The drive shaft must be removed for all-wheel or rear-wheel drive vehicles to be towed by a tow dolly.
As a rule of thumb, the tow vehicle must be substantially larger and heavier by at least 750 pounds than the vehicle being pulled. The overall weight of towed vehicle should not be more than 3,450 pounds for front-wheel and 3,900 pounds for rear-wheel drive. Also, both vehicles must have the capacity to haul the weight of the tow dolly which is approximately between 500 to 1,500 pounds, plus the weight of the vehicle being towed in the case of towing vehicle.
There are varying laws from state to state, so be sure to check with the department of motor vehicles if they require tow dollies to be licensed.
Before renting a tow dolly, be confident that the car to be pulled will fit on the dolly.
Where to Rent Tow Dolly?
Use the following links to locate various Budget Truck and Penske Truck near your area.
Factors Affecting Tow Dolly Rental
Tow rental companies – different companies charge different tow dolly rental price.
If packaged with tow truck – some companies do not allow rental of tow dollies separate from a truck that serves as a tow vehicle. But some do.
Location – each state has a different cost to rent a car dolly.
Destination – some rental companies charge higher the farther your relocation will be.
Do's and Don'ts / Things to Consider
Renting a tow dolly entails a lot of instructions that need strict compliance for a safer ride, namely:
You should consult a trusted mechanic about the best method of towing your vehicle. Or better yet, refer to your car owner's manual.
Always attach the towing device to the tow truck before loading the vehicle to be towed.
A towed vehicle should be empty. No person, pets or any cargo should be inside when it is being pulled. Towing validations was based on the empty weight of the vehicle and change in the distribution of weight may result in whipping of the vehicle.
If your vehicle is a front-wheel drive, you will need to place the front wheels on the dolly. The same way rear-end drive vehicles need the rear end wheels on the dolly.
Your vehicle should always be centered on its front end facing forward on the towing device, never backward as it may result in swaying and may lead to a total loss of control.
You should disconnect and secure the driveshaft to prevent transmission damage.
Always check both vehicles for proper tire pressure. Never deflate the tire of the vehicle being pulled to make the straps fit.
Some vehicles may have a low front end or bumpers may not have enough ground clearance to drive up the tow dolly platform so better check before renting.
Saving Tips
Accept different quotes – having several quotations from various rental companies gives you more choice to get not just the cheapest but the best deal.
Use online rate estimator – when you have no idea if you have the budget to rent a tow dolly, use various rate estimator online to have a bird's eye view of the cost.
Avoid renting around peak season – if you have a rather flexible schedule, try to avoid renting during the summer months where people movements are at its peak. Rental rates tend to be at its highest during this season.