What the heck is a cherry picker? If you are a "Belieber," you have probably been to one of Justin Bieber's concert, or at least have seen a video on youtube where he was being lifted by equipment while singing the song, "Be Alright and Fall." Yes, a cherry picker is, in fact, a boom lift!
A cherry picker, also known as a mobile elevated work platform, boom lift, man lift, basket crane or hydra ladder, is a type of aerial work platform that consists of a platform or bucket at the end of a hydraulic lifting system. It may be mounted on a truck or van or a self-propelled platform.
They are specially designed for relatively light lifting with a weight limit of around 200kg. Because of the lifts' light construction, they can be powered by either diesel or electricity, with the electrical ones suited for indoor use.
Get Free Customised Quotes For You
Fill the below form to get up to 4 quotes directly to you.
Average Cherry Picker Rental Cost
Rental rates, like any other equipment, vary depending on the type of machine and the duration of the rental. Typically, companies' rates are based on daily, weekly and monthly rates.  There are also some who offer hourly and half day rates, but they don't quite come often.
The average cost to rent cherry picker ranges from $250 to $400 per day or $1,000 to $1,500 per week. Expect large models like the one that extends beyond 100 feet to cost more.
Generally, boom lift rentals run $250-$400 per day or $1,000 to $1,500 per week.  However, the largest models – those which the hydraulic lift extends 100 feet or more in the air – will cost significantly more. Specific rates for different capacities are as follows:
30-foot articulating electric boom lifts – $250 per day, $1,000 per week, and more than $2,000 for four weeks.
45-foot telescopic 4-wheel drive – $300 per day, $1,100 per week, and $2,500 for four weeks
65-foor diesel lift – $350 per day, $1,500 per week, and $3,000 or more for a month
Additional Costs
Aside from the cherry picker rental price, please consider the following incremental costs:
Mobilization and demobilization of the equipment cost around $100 to $150 on top of the rental price.
Damage insurance – around 9% of the rental fee (also depends on the insurance company)
Environmental Fee – ranges $1 – $5 or higher depending on location.
Who Uses a Cherry Picker?
Cherry picker got its name because it was originally designed for use in orchards, although not necessarily cherry orchards but where they are still used frequently. As the name suggests, it facilitates the fruit picking by allowing the fruit picker to pick the fruits high in a tree with relative ease.
Over the years, boom lifts have evolved from the original cherry picker into a modern-day performance machines that can reach a starting height of 30 feet up to as high as 185 feet.
Boom lifts have become an essential tool for many different trades such as the following:
Telephone companies
Cable television
Electrical companies
Fire Department
Construction companies
Mining companies
Window washing companies
Exterior painter
Arborists
Types of Cherry Picker / Boom Lifts
As the name suggests, these are elevated work platforms that can extend telescopically or consist of parts that slide one within another like the tubes of a jointed telescope and are thus capable of being extended or shortened. This feature offers greater horizontal reach than any other type of aerial platform, allowing workers to perform in areas with limited access points. These booms start at around 40 feet and can go up as high as 185 feet in terms of reach.
These booms lifts are aerial work platforms that have multiple booms sections that hinge. These sections allow the operator to reach difficult areas that usually are blocked or has obstacles and barriers. They are also known by other names such as "knuckle booms"  or "up-and –over booms. These booms start at around 30 feet and can go up as high as 158 feet.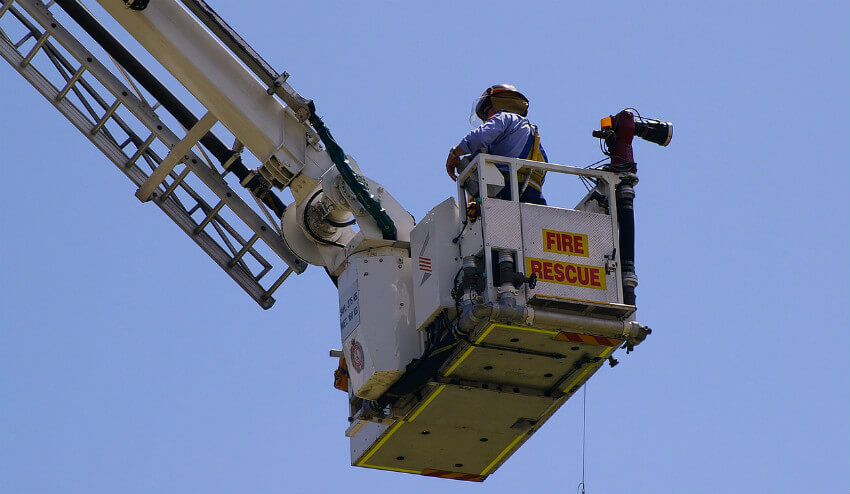 Things to Remember When Renting a Cherry Picker
The cost to rent cherry picker usually comes with an operator, at most with another crew to assist. These give you an idea on the size of the workforce you will need to get a job done. If you think you will need more, you can always ask the rental company for additional crew for an additional fee.
If you have a job that needs to be done and you are not sure whether a cherry picker is suitable to be used, just call the rental company and inquire. Most of the jobs they do are not the conventional type that you would imagine will be using boom lifts. As long as it relates to heights, they are the right one to call.
Standard cherry picker rental price is being offered to frequently carry out jobs such as TV aerials, gutter and roof work, tree access, painting and decorating, as well as rescuing pets. If you are a regular customer, you might even get discounts.
Any domestic jobs that are carried out at a height and can be dangerous if done in DIY using scaffolding or industrial ladder can be scratched altogether. It is always better and safer to rent a cherry picker.
Cherry pickers are hired with a crew who are experts at their job. They are a package deal. Do not self-drive the cherry picker for the safety of all. This exception is the very reason why it is nearly impossible to gain insurance for a cherry picker loaned to the general public on a self-drive term.
To Rent or To Buy Cherry Picker
Small to mid-size boom lifts cost around $25,000 to $50,000 while the largest is around $100,000. Even used lifts cost around $10,000 up to $100,000. In short, buying one requires a major capital investment. If you will be needing it for just one project or just once in a blue moon, it is better to just rent from an equipment rental company.
The reason is very simple. You cannot maximize your investment if you will not be using it at full capacity. Unless you intend to expand into the rental business, making your cherry picker purchase a self-liquidating asset, you may just as swell stick to paying one-time rent rather paying monthly amortizations.