In any kinds of sports, the more you score, the more it is likely to win. Then there's golf.
It is the only known physical sport where less is more. The player with the fewer strokes wins.
When sports are supposedly a physical game, where physical effort is expected, golf tends to stay away from the norms. This is because golfers use golf carts to get to one location to another on the golf course. Some call it laziness. In golf, it's a convenience.
Over the years, golf carts have evolved from being a time-saving machinery for golfers as well as allowing disabled golfers to enjoy the game still, to become a multi-utility vehicle it has become today.
Average Cost of Golf Carts
The average cost of new golf carts ranges from $4,000 up to $15,000, while used ones cost between $1,500 and $6,000 depending on the condition and level of refurbishment.
Golf carts that are fully reconditioned mechanically, with new paint, tires, and upholstery range from $3,500 to $4,500.
The price of basic models without any accessories starts at $4,000.
The cost of golf carts that range between $5,000 and $10,000 are the ones that are two- or four-seaters with headlights, windshield and a horn. You can also choose if you want gas or electric powered in that price range.
Golf cart prices that are beyond the $10,000 mark will be top of the line with luxury features like radios, DVD players, and coolers. You can also customize other features with this price.
Larger golf carts for industrial use are more expensive than those used for leisure and recreation. These carts might have extra features like a bed that can be utilized for hauling supplies. These range from $8,000 to $12,000.
Tips in Buying Golf Carts
If the golf cart is used primarily on a golf course, the buyer should consider the electric powered one because it has low maintenance and operation cost.
If the golf cart is used as a utility vehicle or as a form of transportation, choose the gas powered one because it will run longer and it has more power for towing or transporting people and supplies.
Always check to see the safety features of the golf carts before buying. Some carts have roll bars, seat belts, and headlights. You should always be aware of the risks involving the use golf carts, as injury and death can still occur even in cart-related accidents even it moves so much slower than regular vehicles.
Each state has different laws governing cart use and ownership. Before buying a golf cart, you should check with the local Department of Motor Vehicles to make sure the vehicle follow all rules about golf carts and ownership.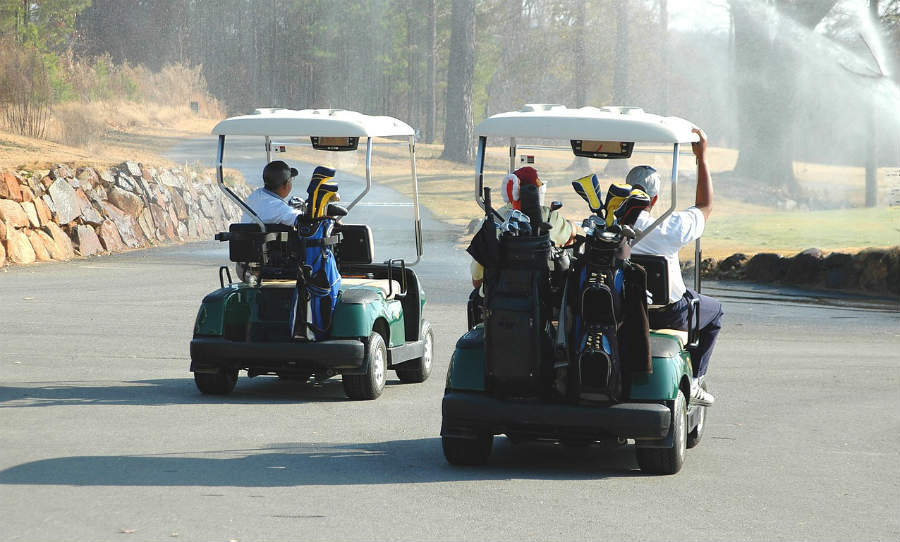 Things to Check for When Buying a Used Golf Cart
Golf in itself can be quite an expensive sport with the cost of all its accessories. And with the purchase of a golf cart on the list, it sets the bar even higher. How much does a golf cart cost will all depend on whether you decide to buy either a brand new or used ones. But considering buying used golf carts can save some thousands of dollars.
But before making the purchase, it is better to look at some considerations to make sure you are buying correctly, and you get what you pay for. Some of these are the following:
Some traders would sell used cart as it is and some will refurbish it. It will make a difference a huge difference in the pricing. It is wise to ask retailer what is the refurbishment done if there are and if you are going to expect any repair soon. If possible, ask for the documentation of the history of the repairs and replacements to the parts made.
Always test drive the used cart before buying to make sure it is going to get you to where you want to go, and all the parts are working properly. Used golf cart prices mainly depend on how it would still function according to the buyer's liking.
Always take into account the age of the vehicle as older models tend to be harder to repair if in case it breaks down because there would be limited mechanic are capable of repairing older models, and spare parts might be very hard to find.
Take into account the features used cars need to have to fit into your intended purpose. The features you need for transport and utility vehicle may not be satisfied by the features present in a used cart that is built for the golf course.
As mentioned, there are two types of carts in terms of the energy source. Again, if you need your card for transport, you need to get a gas powered as it runs longer and can carry heavier cargo. If you intend to get the golf course version, ask the retailer whether the battery is rechargeable or not and ask for the age of the battery if it is not evident. This is to know if you are going to need replacement anytime soon.
Price will always be the foremost consideration in buying anything. It is better to understand why a used cart has the price tag that it has. There may be some customization and added accessories that you can do without, thereby worthy of a bargain.
Buying a used golf cart that has been manufactured by a well-known or prestigious company may be a better choice since there would be so much repair options and replacement parts will be easier to find in the case of breakdown. One of such popular companies, E-Z-GO's prices are from $5600 to $12100
Where you intend to buy can significantly impact the golf cart prices. If you are going to buy one in areas near or in the vicinity of golfing travel destinations, or in areas with a large number of gated communities where the golf cart is a necessity, chances are, you are going to find the most expensive golf carts there.
Gas vs. Electric
Golf carts are divided into types based on how their energy source and the cost of buying and maintaining them varies by type.
Electric powered carts are quieter, environment-friendly and less expensive to operate. They are designed mainly for golfers who will use them only in golf courses and whose primary concern is to get into different greens conveniently.
While those who intend to use the carts as transport and utility vehicle that carries passengers and cargoes, the gas-powered is the leading choice. It is more powerful, runs longer and can handle varying terrain and long distance better than electric-powered. They are also the better choice for industrial and farming applications.
Where to Buy
You can buy golf cars from E-bay, US Golf Cars, Inc., Golf Carts for Sale.com among others. You can also check Club Car dealer locator to look for cart dealers near your place.
CostOwl.com also has dealer locator free service. It claims that up to four golf cart dealers will follow up to you directly by telephone, so if you are not a serious buyer and do not want to be bothered, refrain from using this service.
Just like any other purchases, it is always safe to evaluate all aspects before taking the plunge. While many of the choices will have its pros and cons, be sure to choose the one that suits your preference and that the benefits can outnumber the disadvantages, be it new, used, electric or gas powered. In the end, it is the satisfaction and cost-efficiency that count the most.