Are you in need of a tractor which can pull and haul things for you? Do you constantly have to deal with transferring heavy and massive loads from one point to another? Do you want to make things a whole lot easier and faster while you work at the farm? Or, are you just tired of dealing with your old and dated tractor, tired of getting it repaired week after week?
If you've answered yes to these questions then you're probably interested in knowing the cost of a tractor, right? Well, let's not delay things any further. Get to know the new tractor prices and the other important costs you might bump into here!
Tractor Average Cost
Tractors are engineering vehicles which are originally designed to replace animals, such as oxen and horses, in doing heavy farm work. And like these animals, tractors were initially used for simply pulling carts and plows in the past. 
Now, these gentle giants can do more than just pull and carry. They have become powerful and useful types of machinery in a variety of tasks on agriculture, landscaping, ground caring, lawn and gardening, industrial, and in sports turf as well.
And the average cost of a tractor, as of writing, is $10,000 to as much as $600,000. That's a pretty huge range so to narrow it down to what you are looking for, you must first answer one important question:
How much power do you need?
If you already have an answer, you can check out these prices:
Small tractors with about 22 to 135 horsepower can cost from $10,000 to $120,000.
Mid-range tractors with 90 to 160 horsepower are around $40,000 to $160,000.
Large tractors usually have the high horsepower of 110 to 290 and can cost from $110,000 to $400,000.
The biggest, most powerful and heavy duty 4-wheel tractors with 327 to 620 horsepower are priced from $340,000 to $600,000.
Inclusions
When you purchase a tractor, it will come with its basic body, including new tires, a powerful engine, a drawbar, hydraulic hitch, a seat, and other parts depending on the type of tractor you choose. Along with this, the new farm tractor cost usually includes a warranty as well. And expect to see an extensive manual about different functions, settings, specs, and other important information you need to know about the tractor you have chosen.
Other Costs to Consider
With today's modern tractors, there are many features that are added, making them efficient in accomplishing certain tasks. And these features do not only mean a better performing tractor, it means more comfort and higher costs as well. To give you an idea, here are some of the things you can choose to add to a new tractor unit:
Better performance devices. Installing such would help monitor key performance indicators, maximizing your tractor's productivity and efficiency. These could cost you an additional cost of $3,000.
Advance radio. If you want your tractor to be equipped with a premium radio which has both AM and FM setting, a USB port, auxiliary input jack, Bluetooth-capable with a microphone, four speakers, a subwoofer, an external antenna, and complete with remote controls, then prepare to add $250 more to the base price.
Extended monitors. Adding monitors to your unit can cost around $2,000.
If you don't want to stick with a tractor's basic lighting, you can upgrade it to premium. And it can cost $3,000.
Other features can include receivers ($4,000 to $11,500), dual hydraulic pump ($12,500), power take-off ($16,000), rear hitch ($23,000 to $26,500), tracks ($7,000), and drawbar ($500). So you see, the more features you want the higher price you'd have to pay.
And just like cars, you can choose to add several accessories as well to make your tractor better-looking or better-performing. And here are some popular accessories owners often choose:
Fuel and water separator which can cost $600.
Leather comfort packages give you a heated leather seat, leather-wrapped steering wheel, carpet floor mat, and even a rear window decal. And such amounts to $1,800.
Outside mirrors are priced at $600.
Radar and dual beam sensors go for $1,000.
Aside from the new farm tractor cost, costs on additional features and accessories, you may also spend on service plans to extend your warranty. For example, if you've bought a compact utility tractor from John Deere, you have the choice to extend your warranty for another year, three or five years. You just have to add $600 to $1,500.
Then, when you have already selected a unit, processed and paid for it, you have to take it home. And usually, picking it from a store on your own is free. But, if you decide to deliver it right at your door, it may come with additional charges.
Lastly, more long-term additional costs can include fuel and maintenance. But these costs would all depend on how frequent you plan to use your tractor.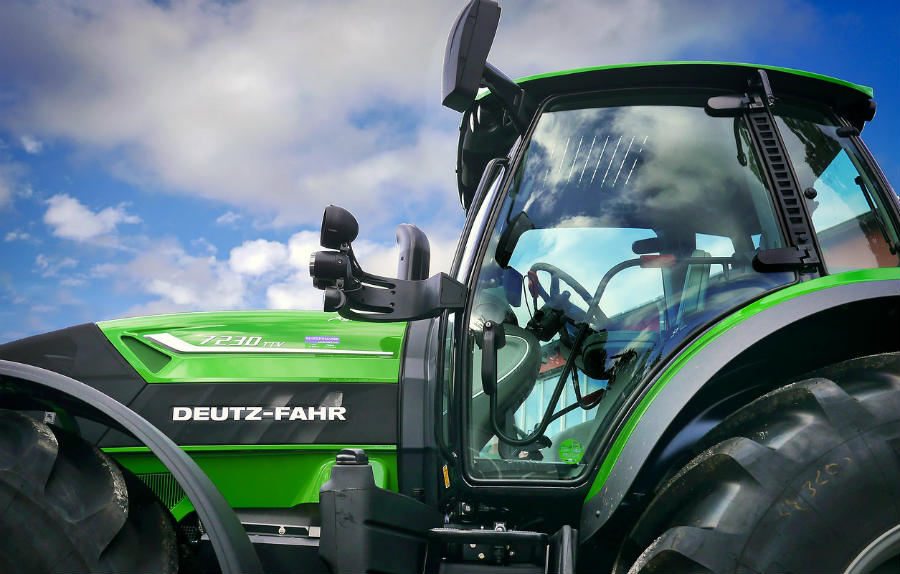 Tractor Cost Factors
Now, to help you understand what goes into the new tractor prices, here's a question you should consider before buying one "What tasks do you need a tractor to perform?" Are you looking for a tractor for lifting and hauling? Do you need a four-wheel drive?
Knowing exactly what you want can get you the tractor you need as well as the price to match it. See, you don't always have to go with the biggest nor the most expensive to get the best results. So to guide you, here are the types of tractors and the corresponding tasks they can perform.
If you need a tractor for mowing, light grading, hauling, brush cutting, tilling, and post-hole digging and to work on heavy loads, then this type of tractor is perfect for you. And these costs about $17,000 to $125,000.
These are basically a smaller version of a Utility Tractor. These machines are mainly designed for landscaping, snow removal, digging, and other property maintenance. You can also add a variety of attachments on modern compact utility tractors like front-end loader, grader blade, post-hole digger, rotary tiller, box blade and many more. These kinds of tractors can cost $10,000 to $45,000.
Designed for a vineyard, vegetable, high row beds, orchard, low-clearance buildings, airports, and many other applications, Specialty Tractors have the same quality and technologies as with most utility tractors. What makes these types of tractor different is that they include components like drop-down gearboxes and specially designed axles for high or low clearance. They can cost anywhere from $35,000 to $165,000.
From rowing crops to baling hay, snow removal, commercial mowing to municipal applications, handling large planters and implements, and transporting and hauling, Row Crop tractors can do them all. These are versatile tractors which provide fast acceleration and can cost from $110,000 to $400,000.
These huge beasts are perfect for land clearing, hauling, handling heavy loads, industrial, emergency transportation, construction, snow removal, backup power, and other heavy-duty tasks. Definitely, if you need a tractor for your lawn and garden, this is not what you're looking for. Prices for such tractors are from $340,000 to $600,000.
Other factors which affect the cost and prices of a tractor are the manufacturer, model, and year. To give you an idea, a compact utility tractor, with the same year, would have different prices from different manufacturers:
A 2014 Massey Ferguson 1700E Series 1734E costs about $17,000
A 2014 Kubota L 3301HST-4W costs $20,000
And a 2014 John Deere 3 Family 3033R is $22,841. 
Notice how prices are different even if it's the same type of tractor and the same year it was made? Now, here's an example how the manufacturing date can affect the cost: there's a 2014 Utility Tractor 5000 E Series from John Deere that costs about $46,000 and there's a 2017 version with the exact model that costs $52,000. See, the newer it is the pricier it gets.
What Else You Need to Know
With the prices indicated, you might be having second thoughts in buying your own tractor. Well, think of it as a major investment – an investment that you won't have to repeat any time soon. See, a well-maintained unit can last 20 to 30 years, even when you use it daily. So can you imagine if you use it less frequently?