Are you an avid tennis player or would like to be one? Wouldn't it be nice to have a tennis court right on your grounds? Playing tennis has many health benefits, and with your court, you, your family, and friends can all play tennis at your convenience. What better way to achieve your health goals for the year!
Tennis Court Average Cost
The cost to build a tennis court is between $28,000 and $80,000, or more. The following are the data from actual providers:
For the Quality Court Industries, the range from $50,000 to $80,000 depending on options.
For Fast Dry Courts, it is anywhere from $28,000 to $80,000, or more. Cost construction of Har-Tru courts ranges from $30,000 to $80,000, or more, while asphalt tennis courts can cost from $28,000 to $80,000, or more.
For Westboro Tennis Surfaces, the rough estimate for construction of a tennis court is approximately $58,000.
Inclusions
The all-in quote to build a tennis court includes the materials and labor. The costs for dirt work, post tension slab, fencing, lighting, surfacing, and accessories are also included.
On the average, it takes 60 days to build a tennis court provided there's good weather condition.
Other Costs to Consider
Permits – To build a tennis court in your grounds may require permits from local authorities or community. The amount of permit fee varies per locality. For Martin County, Florida, the fee is $179 while the permit fee is $250 in the City of Bloomfield Hills, Michigan.
Additional works required – Should additional works be needed in the construction of your tennis court, the following costs from Westboro Tennis Services can serve as your guide:
| | |
| --- | --- |
| PARTICULARS | COST |
| Additional Bulldozer Subgrade Work | $100/hour |
| Additional Vibratory Roller Work | $85/hour |
| Additional Excavator Work | $125/hour |
| Additional Rubber-Tired Backhoe | $95/hour |
| Additional Gravel | $24/yard |
| Interceptor Drainage (3/4"washed stone and 4" perforated pipe) | $24/foot |
| Materials Removal from Site | $100/hour per truck |
Maintenance – To benefit from the long use of your tennis court, proper maintenance should be conducted. The type of maintenance work will depend on the type of tennis court.
Hard courts require less annual upkeep although if asphalt is used, it will require much more maintenance work compared to concrete or cushioned hard courts. For courts that are often used, resurfacing may be needed after 5 years, and the cost can be between $5,500 and $7,500.
On the other hand, clay courts, as well as grass courts, would need weekly maintenance.
You also need to purchase maintenance equipment. Again, the type of equipment will depend on the type of court. For Har-Tru and HydroCourt, you need to purchase power/tow/hand roller, drag broom, line sweeper, lute/scarifier, and line scrub. Additionally needed for a HydroCourt is a court rake. For hard tennis courts, a water remover is necessary.
Buying Tips
First off, determine if your space is large enough to build a tennis court on. The minimum area required is 7,200 sq. ft. with a length of 120 ft. and width of 60 ft. The measurement is standard for just a single court.
Second, check with your local planning department if there are no restrictions in your area or community regarding your planned project. You can also check with the department regarding the regulations governing property uses and limitations.
If you can proceed with your project, the next step will be very crucial – hiring a licensed professional tennis court builder. Make sure you hire a builder that has the required certifications and can provide you with an insurance and warranty for the project.
You can search the directory of the American Sports Builders Association for certified builders in your locality. You can also ask for referrals. Browse through the builders' portfolio for past and ongoing projects of the company to have a glimpse of how they deliver their services.
It pays to be thorough with your project because doing so will ensure that your tennis court installation will be worth its value.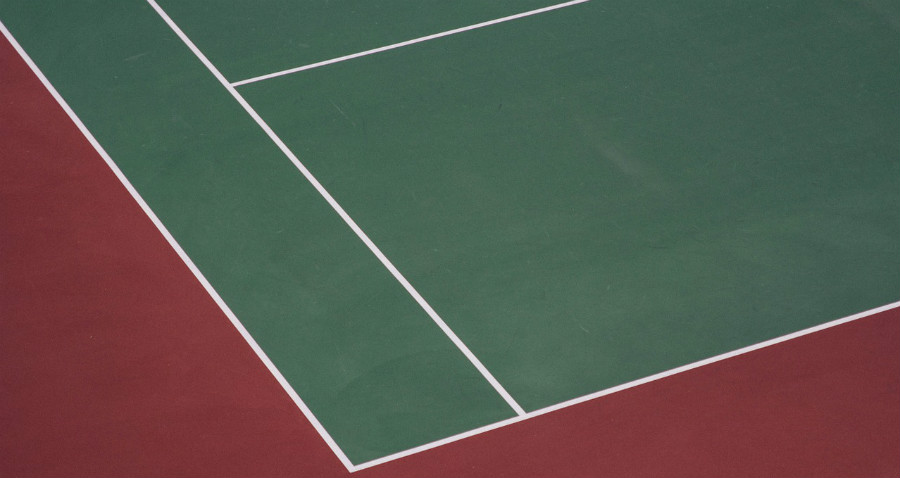 Tennis Court Cost Factors
Site Preparation – The site where the court will be built needs preparation. Extensive work is needed when the land is swampy, rocky, or uneven. Costs for leveling the land and in laying the foundation work would mean higher expenses.
Type of Court – There are different types of courts to choose from, and each type costs differently. The types are Har-Tru, HydroCourt, ClayTech, and Hard. Hard Courts can either be asphalt, concrete or cushioned.
A grass court is also another type, but nowadays it is not a popular choice because of the extensive maintenance needed periodically. It requires regular watering and mowing. Inclimate weather conditions also severely affect grass courts compared to the other types of tennis courts.
You will need to decide which type of court will work best for you. Both Har-Tru and Hydro courts are less costly to install, but they will require more annual maintenance.
Hard courts, on the other hand, will require more upfront fees in installation but will not cost as much in annual maintenance.The hybrid between the benefits and costs of the types of tennis courts is the ClayTech court.
Amenities – Amenities for both the court and the players are numerous, and these will mean additional costs. The available amenities for the court are cabanas, water fountains, windscreens, and backboards. The available amenities for the players are shoe cleaner for Har-Tru or Hydro courts, court benches, score keeper units and Tidi-Court organizers.
What Else You Need to Know
Playing tennis has many benefits. Aside from helping you become healthier and fitter, it also has social and psychological benefits. With your court, you can better reap the benefits of playing tennis.
Having a residential tennis court can also add value to your home.
Go ahead and live your dream of having your tennis court! If you use it often, it will be worth the cost.