Piano playing consists of common sense, heart and technical resources. All three should be equally developed. Without common sense, you are a fiasco, without technique an amateur, without a heart a machine. The profession does have its hazards.
These may as well be applied to buying a piano; common sense to buy for the best deal, heart to play or to learn to play, and the resources to afford it.
You have watched a concert where the artist played the piano. He was so good at it that you have become instantly inspired. You want a piano yourself. You need to learn to play. But the question is, how much does a piano cost?
The thought of buying one can sometimes overwhelm you, and it is understandable. To be safe, you better know what type of keyboard suits you based on your level of knowledge, space, and of course, your budget. So research is the key.
Average Cost of Pianos
Due to a wide array to choose from, the average price of pianos cannot be specified without being ridiculous due to the disparity in the amount. Like upright piano prices and that of grand pianos cannot be mentioned in the same breath in terms of cost.
To make the price range more acceptable, we have broken down the average cost of pianos based on their types and size.
Half-sized keyboards – $200 to $250 – Ideal for learning on
Digital – Ideal for recording – $500 to $2,000
Upright – Ideal for limited horizontal space – $1,000 to $2,000
Console or studio – Ideal for limited horizontal space – $2,000 to $8,000
Baby grand – Ideal for performance and limited space – $4,000 to $8,000
Grand – Ideal for performance – $10,000 to $50,000
Concert grand – Ideal for performance & professional use – $30,000 to $ 100,000
Additional Costs:
Delivery charge – always check if delivery is included. If not, expect to spend additional amount depending on the location.
Piano bench – if your purchase does not include a seat, you will be paying around $50 to $500 for regular types. Benches for grand pianos can cost around $2,000 or more.
Piano bought as brand new should be tuned at least once a year and would cost $70 to $125
If you purchased a used piano, a piano tuner-technician would be needed and would charge around $70 to $150
Most pianos need action regulation (leveling the keyboard, filing the hammers, etc.) every 5-10 years. This ranges from $1,000 to $3,000
Things to Remember
Several factors are to be considered in answering the question "how much does a piano cost?"
Some of these are:
Price varies depending on size and type of keyboard.
You must not limit yourself in finding a piano that fits your budget. You must locate the one that fits your need first. This way, you would be inspired to play.
There are piano shops that offer trade-up so consider it to save more money. Some dealers offer 100 percent trade-up; if you buy a piano and later purchase a more expensive model, they'll take the old one back and apply its price to the cost of the next piano.
There are several add-ons that you might want to consider in buying like bench and foot pedals in case of digital pianos.
Experts recommend buying a piano that is slightly higher than your playing ability as this would inspire you to play because of the challenge.
If buying from a dealer, ask if the piano will be tuned and cleaned before delivery. A warranty should be included that covers 5-10 years under one owner and does not include tuning or action regulation.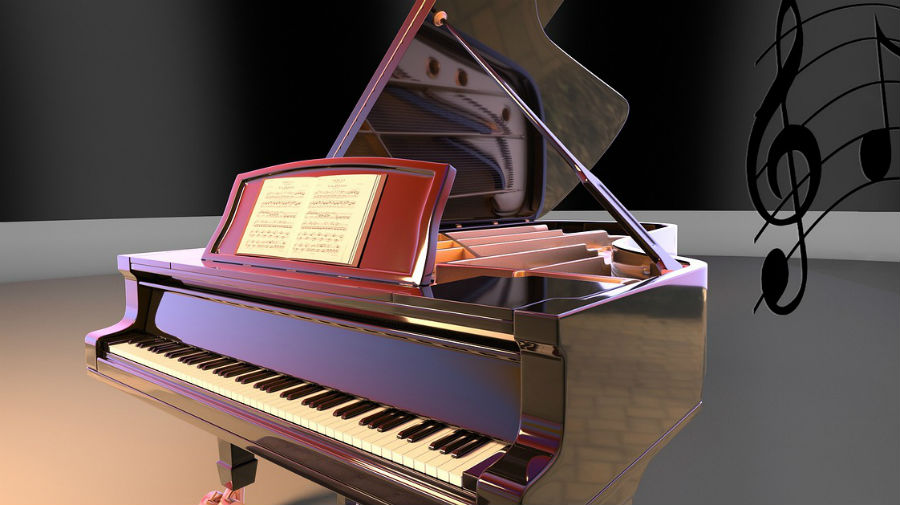 Where to Find
Shopping for a piano can be easy as you will have more options that will fit your budget and needs. When you begin your quest, you may find the following a useful resource:
Taking Care of Your Piano
Every piano is created from many sensitive parts. So sensitive that it is prone to damage over time. Like an automobile, it requires a routine check-up, service, and maintenance to maintain the quality of the sound. The three components of piano's musical performance which are the pitch, tone and touch require periodic adjustment.
Also worth noting is that piano is built primarily out of wood and therefore is more prone to damage with a slight change in temperature and humidity. When this happens, the keyboard goes slightly out of tune because the connection between steel wire strings to the bridges and sounding board is somewhat changed.
For more information on how to take care of your piano, please see Maintaining your piano.
Reasons Why a Piano Goes Out of Tune
Contrary to the belief that a piano is a percussion instrument, a piano is actually a string instrument, although a lot may argue that it is both. And the piano strings are under lots of tension that are supported by bridges, rim, plate, pin block, tuning pins, and soundboard. Any movement of these sensitive parts will cause the piano to be out of tune.
The reasons for these movements or changes are as follows:
Humidity changes – This is the primary factor that causes the piano to go out of tune. No matter what coating the soundboard may have, moisture from the air has its way into seeping into and out if the wood. A piano usually goes flat in the winter and goes sharp in spring.
Temperature changes – Direct sunlight or heat can cause rapid changes in tuning.
Stretching of the strings – Elasticity plays the part in this factor. The piano has a lot of elasticity in the first few years and loses some the further it is used.
Slipping tuning pins – This is not applicable to new and quality piano. But in the old piano that has been exposed to natural seasonal humidity changes, the pin locks lose its tight grip to pins making the string tension to cause them to rotate slowly over time which makes the pitch to go flat.
Playing the piano – Naturally, as in all other objects, the more you play the piano, the faster it goes out of tune by a small amount. To prevent this from happening, a piano tuner must set the strings during the tuning.
Used Piano
Another option if you want to own a nice piano but do not have enough budget to afford a brand new is to look for a used one. But first, you must determine how much is your budget?
The following guides will help you in your hunt for a good quality used piano:
If your budget is lower than $7,500.00, do not even look at grand pianos. Sure you can find someone who would sell a quality piano just for the purpose of getting rid of it. But that is stretching your luck too far. Otherwise, brace yourself for major repairs every now and then.
If you have no idea how buying a piano work, seek professional help to aid you. Unless you know someone, a family member or a relative who runs a piano restoration house that is giving you a five-year warranty, no questions asked.
Good upright piano prices are always better than aiming for a grand piano at the early stage of learning. Buy your piano from a reputable dealer based on your means with the help of a piano professional.