Why do a lot of people dread needles? Fear of needles, known as needle phobia, is the extreme fear of medical procedures involving injections or hypodermic needles. It is also known as trypanophobia.
About 10% of the human population has this condition. And out of these, 20% avoid medical treatment as a result. Curiously, the fear of needles is both a learned and an inherited condition. Because of this, dealing with patients with needle phobia is included in the Phlebotomy training course.
According to Wikipedia, Phlebotomy is the process of making an incision in a vein with a needle. It is used by a trained medical professional, called the Phlebotomist, to draw blood samples from patients for clinical or medical testing, transfusions, donations, or research.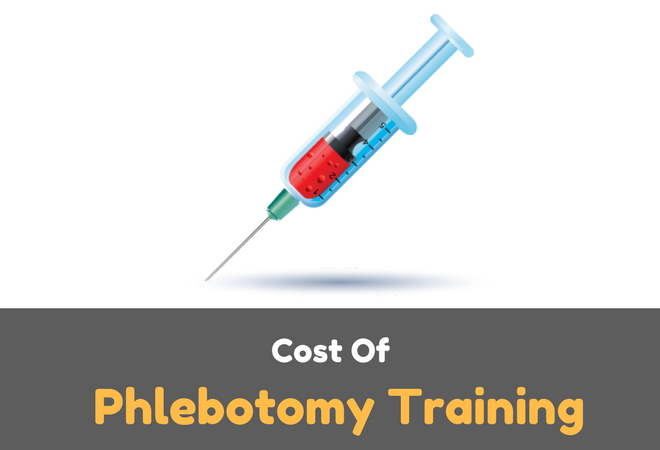 Average Cost of Phlebotomy Training
The price of phlebotomy course depends on the institution offering these services. Many community colleges offer the training course, and the fees are just like any other course offering that ranges from $600 to $2,500. And because it is treated as such, expect that you will need to pay for the books relevant to the training course and not just the usual handouts being distributed during any other given training.
Technical Schools or Facilities offer the course for around $700 to $1,400. Some technical college incorporates Phlebotomy training in their medical assisting program, which costs $29,400 for six quarters and one of which focuses on phlebotomy.
Some private facilities, such as the Complete Phlebotomy Training, Inc. offer comprehensive training that you will have shell out a total of $2641. Coverage is as follows:
Basic Class for $550.00 that will last for 20 to 22 hours

Advanced Class for $550.00 that will last for 20 to 22 hours

Clinical Class for $675.00 that will last for more than 40 hours

One-time non-refundable registration fee of $250.00

Deposit of $616 that includes textbook and a part of the Basic program
Phlebotomy Training Center offers Phlebotomy Technician Certification combined with four others certifications. Complete course certifications are as follows:
Certified Phlebotomy Technician from PCT a "State Licensed School."

Clinical Laboratory Assistant

National Phlebotomy Exam through the National Association of Phlebotomy Technician Professionals N.A.P.T.P.

Medication Aide

National EKG Exam Certification through the National Telemetry Association
How much does phlebotomy training cost at The American Red Cross? Just go to your nearest American Red Cross regional headquarters office to inquire. Several requirements must be met before qualifying like educational attainment (should be at least high school graduate), clean background check as you would be working with medical data which is strictly confidential, and complete vaccinations like tuberculosis shots before starting the course. You also may be required to be certified in cardiopulmonary resuscitation (CPR) to qualify for the training.
Some institutions that offer free phlebotomy training but are available only in certain areas. Most are not free but either sponsored, supported thru scholarship grants, Unemployment & Public Assistance, financial aid or military benefit. Free online training courses are available at this link.
There are also available training courses online which comes cheaper than the ground schools. This mode is more convenient than ground training because you have many options concerning schedules. E-books are also being provided, but this comes way cheaper than printed books.
The price of phlebotomy course offered on the Internet ranges from $300 for basic and up to $677 for the combined basic and advanced courses. While the courses are being delivered online, most of them recommend hands-on training.
Typical online course at Phlebotomy Services includes: Day 1 will be internet-based only. The class will consist of lessons and quizzes that you can complete at your pace. Day 2 will be hands-on training, and you need to complete the online class so you can proceed with the hands-on training. This phase is usually a week after the online class which typically includes:
The Laboratory

Safety and Infection Control Guidelines

The Importance of Patient Identification

Learn about the Circulatory System

Proper vein selection for venipuncture

Learn about heel stick procedure on infants and newborn screening

Phlebotomy Procedures-Learning to perform the venipuncture

Skin Puncture Collection (finger stick)

Preventing Pre-analytical Errors in the laboratory

Difficult Draws: Learning the tricks of the trade

Basic Medical Terminology

Legal situations in Phlebotomy

Learn about common laboratory tests

Special Procedures
An email notification will be sent to you when the online class has opened. Typically, you will be provided with a username and a password. Sometimes, you get to create your own upon registration.
Phlebotomy certification cost is usually included in the cost of training. What you have to pay for is the state test to qualify to get the certification. The usual fee is around $50 and could go as high as $58 in the different location.
Aside from the training and phlebotomy certification cost, getting your own kit is just as important in honing your skills while on training. The following mobile kit and complete starter kit are available online.
Mobile Phlebotomy kit for two patients costs $19.99 and contains:
1 – 22 Gauge BD Blood Collection Needle with Safety Lock.

1 – 21 Gauge BD Blood Collection Needle with Safety Lock

1 – Butterfly needle. Size and brand vary depending on what's in stock

2 – Plastic Needle Holders / Adaptors

2 – Disposable and latex-free tourniquets

2 – Alcohol Swabs

2 – Gauze Pad

2 – Adhesive Bandage

2 – Pair of latex-free gloves

2 – Lab-Loc Biohazard Bag

2 – Tablecloth / absorbent pad
The Complete starter kit costs $145 which includes the following:
(2) Nitrile PF Exam Gloves 10/pack

(2) LF Tourniquets

2 Alcohol Prep Pads 10/pack

3M Transpore Plastic Tape 1″x10yds

20 Gauze Sponges 2″x 2."

Adhesive LF Bandage Strips 3/4"x 3″ 50/box

2 BD Vacutainer Eclipse Needles 22g x 1.25."

3 Multi-Sample Needles 21g x 1.5."

2 Multi-Sample Needles 22g x 1."

2 Butterfly Scalp Vein Needles 23g x ¾."

2 Transfer Pipettes 7.5mL

5 Collection Tube 10mL (Red)

5 Collection Tube 7mL (Lavender)

5 Collection Tube 4.5mL (Blue)

Permanent Marker (Black)

Phlebotomy Caddy
Certifications are needed to land a job in this field. Different level of skills and experiences are required in every state. So if you intend to move or land in a more lucrative career, getting or upgrading your certifications is highly recommended.