Historically, the roots of kickboxing date back to Asia some 2,000 years ago.
Modern competitive kickboxing started in the 70's when American karate experts develop competitions that combine punches and kicks that were not allowed in karate.
So basically, kickboxing is a fusion of different standard combat sports developed from Karate, Muay Thai, Kun Khmer, and Boxing. In other words, it is considered a hybrid martial arts formed from the elements of various traditional styles. And because of this, there is no single international governing body regulating this sport. Consequently, there is no single kickboxing world champion. Bouts are being organized by different promotions without uniform rules.
Average Cost of Kickboxing Classes
Kickboxing studios usually charge by the month. Kickboxing classes price ranges from $70 to $140 for unlimited classes. Some offer walk-in rates of $10 per class. There are others that require members to sign yearly contracts, with members paying enrollment fee that starts at $75-$125.
Other studios offer bundle classes. The cost of kickboxing classes of 20 sessions usually costs around $275.
How much do kickboxing classes cost when you opted for longer commitment? American Kickboxing Academy offers 3, 6 and 12-month unlimited classes for $417, $774, and $1,428 respectively, with a one-time enrollment fee of $75 with the three-month option. Opt for six months to enroll at only  $49 or 12-month and the fee is waived.
Children get special 20% discounts.
What to Expect?
•    Classes are usually 45 minutes to an hour long, beginning with a 15-minute warm up by stretching or jumping rope
•    Many studios or gyms offer separate classes for beginners and the experienced
•    At least half an hour is dedicated to concentrated kickboxing, which includes punching and kicking a heavy bag or sparring with classmates or the instructor.
•    A brief cool down period follows which usually includes push-ups and crunches for strength and stretching for flexibility.
•    Workouts are usually barefoot or specially made shoes for kickboxing.
•    Kickboxing class can help you tone your body and improve your cardiovascular health, unlike most of the fitness routines that focus in cardio work out alone.
•    You might find yourself struggling with the dance and martial arts inspired move at the first few sessions. Do not fret. Some are good at it; some are not. If you are one of those unfortunate ones, double your effort. You might eventually find yourself gradually improving your coordination.
Additional Costs
The cost of kickboxing will be higher depending on whether or not studios have free gears. Not all studios provide free fighting gloves, headgear and other protective equipment for new members. So please expect to bring some when you decide to take up kickboxing classes.
Below is a list of gears and equipment that are being used in kickboxing.
Gloves: 

Boxing gloves are designed to protect the fighter's hand during a bout and at the same time reducing superficial injuries.

Cost:

$24.99-$49.99
Protective Headgear: Like all other helmets, it protects the head from injuries caused by contact. Cost:

$39.99 – $199.99
Mouth Guard: Mouth Guard: This is used for protecting region around mouth and jaw particularly the teeth. Cost

$2.99 – $14.99
Tops/Pants/Trousers: Specialized kickboxing suits allow free movements of kickboxers. Cost:

$19.98 – $79.97
Special hand Wrap: This provides maximum safety of the knuckles. The wrists, as well as fists of an athlete, can be protected while coating. Even fists of the best boxers in the world can get hurt. What made you think you can't? Cost:

$6.99 – $29.99
Shin pad/guards: Have you seen Paul George of the NBA literally broke his leg? You don't want that, do you? Although it is a different sport, kickboxing is more prone to that kind of injury. So beware. Cost:

$69.99 – $149.99
Special Kick Boxing Boots: All kinds of sports require a certain type of shoes so that it would feel comfortable moving around, especially if it required a lot of running and jumping. Cost:

$69.99 – $79.99
These gears and equipment may or may not be mandatory in some of the studios. For beginners where you are being trained just the basics and without an opponent but the punching bag, they might just require you light clothing that you usually wear in gyms.
But with advanced training that comes with an opponent, as a precaution, you might want to be in a full battle gear. As they say, being overdressed is way better than being underdressed.  And it applies to all.
Kickboxing students and athletes should take caution in wearing these gears and equipment. They have to be used, only if they are in good condition. Since these items are subject to wear and tear over time, using them in their worn out stage may probably do more harm than good.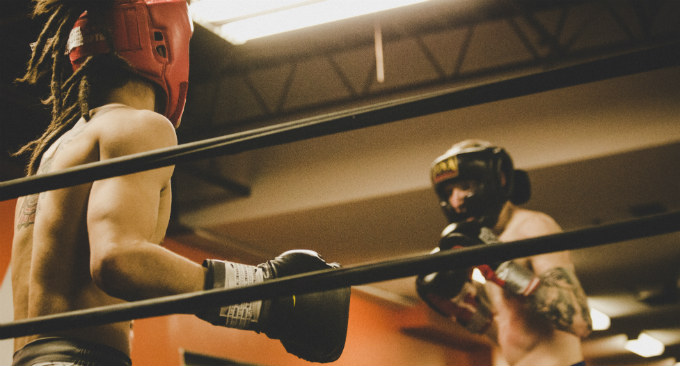 Where to Find?
You can first check out some kickboxing studios and learn about the training style that is being done before actually signing up and gauge yourself if you are physically and mentally ready. You might find this lessons.com helpful in locating the best studios in your area with kickboxing classes price that suits your budget
Tips Before You Take A Plunge
Before you get too excited and decide to sign up for a kickboxing class, you need to consider a few basic guidelines:
Are you fit enough to join the program?
Kickboxing is a high-intensity, and high-impact form of exercise and not all people are fit to indulge this kind of activity, especially if you have been a couch potato for the most of your life. Pay a visit to your doctor and get yourself checked for any chronic illness that might render you unfit for strenuous exercises as a precaution.
Check it out before you sign up.
Some want to join the classes just for the sake of it, or because everyone is doing it. Before deciding to join, make sure that this is what you want. Observe a few classes and see if you think it is right for you or you still like it.
Find out whether the instructor is qualified
Who would want to follow an instructor who does not know what he's doing? Find out if he is a certified fit instructor and a high-level belter in martial arts before enrolling. That way, he can guide you correctly as an expert.
Start slowly at your own pace
The key to a good exercise is not to strain your body too much especially when you are just starting up in kickboxing. Overexerting effort and overextending yourself during movements can cause injuries like sprained ankle, pulled muscles and tendons among others. So calm down.
Keeping yourself hydrated before, during and after the classes is highly recommended.
Kickboxing is considered good exercise because it teaches conditioning and discipline, as well as a good aerobic workout. So whether you do train for competition or to just stay fit, it is beneficial to the overall well-being of the body.