An activity like Karate is an entertaining way for boys and girls to accomplish fitness and focus. Some parents may believe that it stimulates violence; however, according to experts, those are views are inaccurate.. Martial arts, specifically Karate, helps teach socialization and self-control.
Karate is an excellent workout that enhances your coordination, flexibility, stamina, speed, and general vigor. It also helps improve one's concentration and persistence, both excellent qualities for children in school or grownups in the workplace.
Moreover, it is not just to make you fit, but to raise your awareness of your environment and equip you with techniques for self-defense you can rely on in life or death situations. Its objective is the growth of an individual, even though it is typically taught in groups or classes.
You may be sold on getting yourself or your kids into karate. The only problem is you don't know how much does karate cost.
Average Cost of Karate Lessons
You'll find considerable variation based on location and whether the school is a commercial one or not.
A profit-making Karate dojo in an expensive neighborhood may cost you more than $100 a month, not including the belt testing and membership fees.
Karate taught in the poorer neighborhood, out of a community center, taught by a coach who only desires to impart his knowledge and covers his expenses, will be around $30 to $100 per month, not counting additional fees. You should check if your local community college provides free classes as well.
However, in private studios, it runs at $75 to $149 a month. This usually covers three or more sessions a week. And there are plenty of Karate studios to that provide unlimited sessions to its members.
Some workshops charge annual membership fees that could go for $100. Students will also need to enter a martial arts federation with an average annual fee of around $60.
Karate workshops that don't propose annual memberships recommend packages instead, for example, you will pay $200 to $275 for three months with limitless sessions.
Some classes for kids charge 20 to 50 percent below than grown-up courses cost, with costs typically established based on a sliding scale based on the child's age.
Some studios propose a discount of about 10 to 20 percent less for two or more family members.
Below is the breakdown of the costs involved in taking a karate class according to Fushinryukarate.
 
 
 
 
Fees
Monthly
1st term
2nd Term
Tuition
$75.00-$60.00
$250.00-$280.00
$450.00- $510.00
Annual Registration
$50-  $60
$90-$105
$120-$140
Uniform
$67 -$85
 
 
Protective gears
$6-$195
 
 
Weaponry
$10-$45
 
 
What Other Costs Are Included in the Workshop?
For the most part, schools present particular sessions for different levels of experience and students will need to buy their set of uniforms and protective gear. The required uniform usually comes with the membership fees. The cost of uniforms ranges from $17 to $55, while the sparring gear runs from $55 to $95.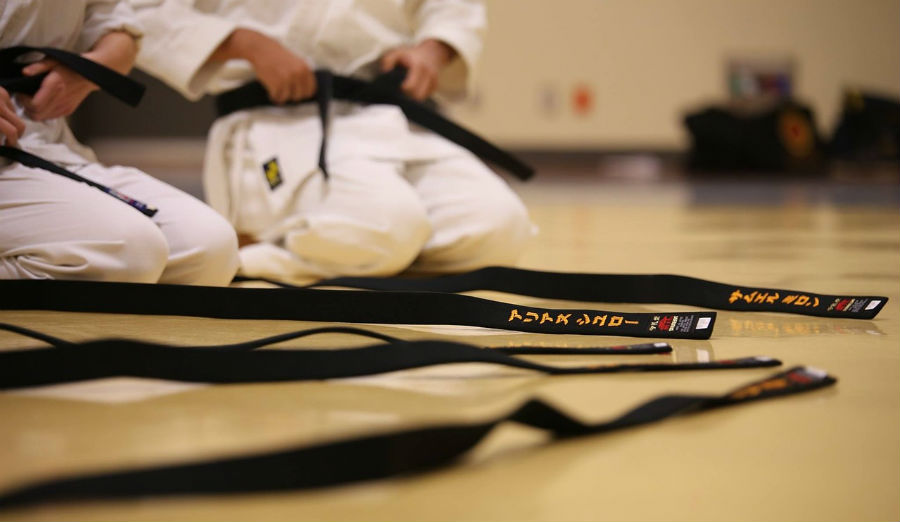 Where to Enroll?
Any individual who purchases goods or services should perform some inquiries on said goods or services. If you wish to find Karate lessons, you need to do your due diligence finding a workshop in your area, via the internet or visiting nearby places which offer Karate classes.
The web is an excellent tool for searching for karate lesson costs. You can visit their site and see what they are offering. Gather as much information from their sites as possible.
If you have friends or know someone who goes to a karate class, ask them what they enjoy the most about the workshop and what the sessions are like. Gather some info about the instructor and their methods of teaching. If you don't know any individual who goes to or went to the class, talk to the coaches.
You can ask them if the group or workshop is partnered with a national organization; for instance, the United States Karate-Do Federation. Major organizations like these elevate the standards of their martial art.
What to Avoid?
Hidden fees: Look for a workshop that does not have a "testing fee." Choose a class that includes all testing fees as part of the initial fee.
Upgrade: When you register, avoid coaches who try and "upsell" you to a pricier course after a couple of weeks or months.
Long term contract: Do not let yourself be talked into a long-term contract. Three months is enough.
Hard to access facility: Look for an orderly, aesthetically pleasing facility. See if there's adequate parking, shopping, entertainment, and dining nearby, for your convenience. However, this Karate workshop may cost you a bit more.
Is it possible to learn at home?
If you wish to start learning Karate, you should get information on the internet. With free online classes, you can understand what is expected if you join a karate club.
Conclusion
Adults and kids who learn karate don't just get a much-required workout and social interaction, they also teach life skills and build character.
For kids' karate classes, it should be both entertaining and serious. Look in your area for kid's karate courses and ask if you could observe a regular class.
Additionally, knowing your goal is important before you begin a karate class. You can choose the karate school that concentrates on specific areas. Remember to consult with the coaches before entering the class to know what you're getting.