According to a popular song, winter is the best season to be jolly. But it's also the season when a lot of people freeze their butts off!
While comforters greatly help at night, the warmth they give off will never be enough for you to survive the winter season or cold windy nights. Man's invention of gas fireplaces has been the answered prayer for many people.
Gas fireplaces are commonly found in the living room area. They are usually attached to a chimney or mounted on a wall. Gas fireplaces are very efficient and easy to use.
The business of making and selling gas fireplaces has been getting more popular every year. There are countless of designs and styles that manufacturers offer to interested buyers.
But the big question is how much does a gas fireplace cost?
Gas Fireplace Average Cost
If you are on a tight budget, it's better to consider first the installation cost before buying a bigger or complex gas fireplace.
If you are not an experienced installer or technician, do-it-yourself installations are quite dangerous. It is better to leave this part to professionals. Only hire people who are qualified for the job. The average cost of gas fireplace installation ranges from $750 – $1250.
It depends on the type as there are three of them: the gas logs, the vented, and the vent free fireplaces.
If you have existing wood-burning fireplaces, converting it to gas is quite easy. The gas log set ranges as low as a few hundred dollars up to $600. If you are looking for fancier fireplaces with elaborate designs and bigger sizes, better be ready to open your wallet wider.
Direct Vent Gas Fireplaces
Directly vented gas logs need to go up the chimney. The direct vented fireplace creates smoke that is similar to a real burning wood. Because of this, it produces realistic flame patterns like in a wood fire and also produces more heat.
Fireplacepro.com has the following prices:
Napoleon Ascent B30 Direct Vent Gas Fireplace Packages
Design
List Price
Sale Price
Flush Mantel
$2,486
$1,946
Flat Wall Cabinet
$3,135
$2,445
Corner Cabinet
$3,236
$2,525
Napoleon Ascent B35 Direct Vent Gas Fireplace Packages
Flush Mantel
$2,670
$2,091
Flat Wall Cabinet
$3,350
$2,614
Corner Cabinet
$3,422
$2,670
Napoleon Ascent B36 Direct Vent Gas Fireplace Package
Flush Mantel
$2,730
$2,136
Flat Wall Cabinet
$3,410
$2,659
Corner Cabinet
$3,517
$2,744
Napoleon Ascent GX36 Direct Vent Gas Fireplace Package
Flush Mantel
$2,950
$2,307
Flat Wall Cabinet
$3,630
$2,830
Corner Cabinet
$3,737
$2,915
Napoleon Ascent B42 Direct Vent Gas Fireplace Package
Flush Mantel
$2,881
$2,253
Flat Wall Cabinet
$3,569
$2,782
Corner Cabinet
$3,680
$2,870
Napoleon Ascent GX36 Direct Vent Gas Fireplace Package with blower & thermostat
Flush Mantel
$3,732
$2,933
Flat Wall Cabinet
$4,602
$3,602
Corner Cabinet
$4,733
$3,705
Vent free gas fireplaces, on the other hand, burn gas cleanly. There is no need for a chimney for this because they generate less smoke. The bottom line is that vent-free gas fireplace is better than the direct vent in terms of efficiency and price.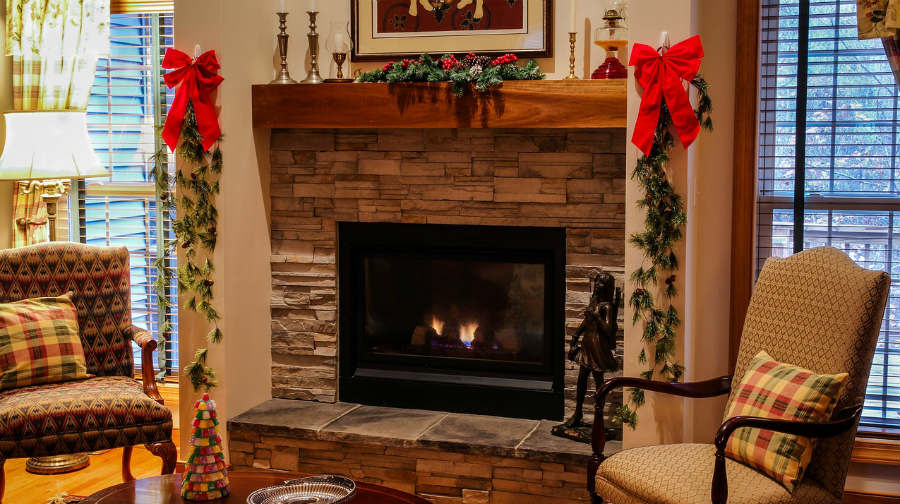 A vented fireplace is expected to cost twice as much as the ventless one, with vent-free ranging from $200 for the basic up to $1,000 for the designer type.
But for some companies, it's not always the case. Although vent free might be cheaper, it doesn't come far from the price of the vented ones. Take a look at a sample price list of Firepro.com for vent free gas fireplaces below:
Napoleon Grandville™ GVF36 Fireplace Package
Design
List Price
Sale Price
Flush Mantel
$1,945
$1,610
Flat Wall Cabinet
$2,625
$2,133
Corner Cabinet
$2,697
$2,189
Napoleon Grandville™ GVF42 Fireplace Package
Flush Mantel
$2,271
$1,885
Flat Wall Cabinet
$3,035
$2,473
Corner Cabinet
$3,120
$2,538
Napoleon Grandville™ GVF36 Fireplace Package with Remote
Flush Mantel
$2,325
$1,911
Flat Wall Cabinet
$3,076
$2,488
Corner Cabinet
$3,148
$2,543
Napoleon Grandville™ GVF42 Fireplace Package with Remote
Flush Mantel
$2,652
$2,186
Flat Wall Cabinet
$3,486
$2,828
Corner Cabinet
$3,571
$2,893
Inclusions
Aside from all the basic materials needed, be prepared to spend on the accessories and specifications required for the installation of the gas fireplace.
It also includes gas log kit (vented or vent-free), natural gas line installation or propane, permits and inspections as needed, all labor and the supplies to complete the project.
Other Costs to Consider
Inspection – appliances at home and in the office must be checked regularly for efficient use and for safety purposes. The gas fireplace is not an exception to this rule. A gas fireplace should be checked and maintained at least once a year.
According to Home Service Plus, appliance owners could get an outstanding tune-up service at the price of $119.95 Also check reliable maintenance services locally for discounts or tune-up packages.
Custom-made – for people with particular tastes or preferences, there are manufacturers who offer a custom gas fireplace. Manufacturers like Acucraft creates custom built fireplaces that accommodate a customer's size and design needs.
Gas detector – for ventless gas fireplaces, a poisonous gas sensor is important for safety. Although there has been no reported casualty because of gas poisoning from vent-free fireplaces in the US, it's better safe than sorry. 
Logs – despite being artificial, you would still want your fireplace have a natural look so you may consider purchasing natural logs. 
Factors Affecting Gas Fireplace Quotes
The important factors are as following:
Size – this pertains to the width of the firebox in inches. The bigger the firebox means bigger the budget needed.
Heat output (BTU) – this is the fuel amount that a fireplace consumes per hour.
Fireplace materials – take the case of a brick fireplace. Drilling a hole through the brick for the gas line takes time thus adding more costs on the installation process.
Proximity to the gas line – Consider where to place your gas fireplace. Nearer gas line is preferable but if it's a bit far, then you have to pay more to accommodate the distance and other materials needed.
Features – basic fireplaces cost naturally less. Special features you want your fireplaces like remote controls, unvented logs and fancier materials and accessories would definitely increase the cost significantly.
Doors and Enclosures – adding a set of special doors or enclosures such as glass materials will increase your overall project cost.
Location – The rate is also dependent on the place of residence as it would be affected by the cost of living and cost of doing business in the area as well as the competition among service providers.
Buying Tips
Having a gas fireplace is a necessity in everyone's homes. Cozying near to a fireplace drinking hot chocolate or reading a book to past the time has been a tradition for many years. Whether it's for the winter season, rainy season, or just for windy nights, a gas fireplace always brings comfort and joy to its homeowners.
Not only does it provide contentment in a particularly cold weather, it also enhances a living room's ambiance and creates a romantic setting. The gas fireplace is best for apartments, big houses, for live-in couples, and even large families with pets.
When shopping for a gas fireplace, first consider the number of reviews and positive feedbacks of the product. Consider the manufacturer or dealer's reputation to make sure that you are interacting with a reliable source.
Some of the best fireplace manufacturers are Pleasant Hearth Fireplace Doors, ProCom, Napoleon Fireplaces, and Duluth Forge Fireplace.
What Else You Need to Know
At first, you might roll your eyes to the cost and installation of the fireplace but to have something keeping you at warm other than your blanket is definitely worth it.
But there's more to gas fireplaces than what meets the eye. Safety concerns for one.
You might be interested to know that ventless gas fireplaces are illegal in certain parts of the country. So before you get too excited about having this kind of fireplace installed at your home, be sure to check first whether it's allowed or not.