Automated Teller Machines, otherwise known as ATM machines, are the perfect example of convenience brought by technology.  They do not occupy large spaces, and they are practically found everywhere.
From bustling cities to quaint towns, ATM machines have spread far and wide. It has now become synonymous with the very fast active modern lifestyle. Modern life is spent so much in transit that money withdrawal has to be as fast and easy as possible.
This convenience, however, comes at a cost. For every transaction, there will be a surcharge. These surcharges range from a few cents to even as much as $5.
Individuals who have an interest in profit have taken advantage of ATM machines to provide them passive income. If you are one of those individuals, this article will give you a walk through the cost to rent an ATM machine.
ATM Machine Rental Average Cost
ATM machines rental cost vary from one company to another. These costs, however, are broken down in very similar ways.
Get FREE Customised Price Quotes
Fill the form to get calls from multiple providers, completely free. 
For the actual rental price, according to Gold Star ATM, the lease ranges from $55 to $95 dollars a month. These prices, however, could get higher if you plan to install an ATM machine in a high traffic area.
Some ATM companies, on the other hand, do not have a lease. These said companies would introduce a partnership program wherein they would divide the surcharges. The most common division is 50% goes to the company and 50% goes to the tenant of the machine.
This effectively means that ATM machine rental cost is equal to a fraction of the total monthly surcharges. Some tenants and operators, however, do not favor this due to various reasons. It is best to inquire on this with the ATM company to avoid complications.
The fees for ATM machine installation and training could range from $50 to $500. It is best to hire the professional services of the ATM company for installation. Improper installation could potentially lead to loss of revenue and even theft.
Inclusions
The ATM machines rental cost include the service of the actual machine and the cassette inside it. The cassette is where the bills are stored. Typically, a cassette has a capacity of between 700 and 1,500 bills.
The ATM machine is bolted to the ground, typically and favorably concrete. This is to secure that the machine will not be removed. This is included in the installation fee.
After installation, the tenant is trained in the operation of the ATM. This is included in the training fee.
Typically, the installation and training fee is bundled into one. However, some companies charge for each individually while some have free training.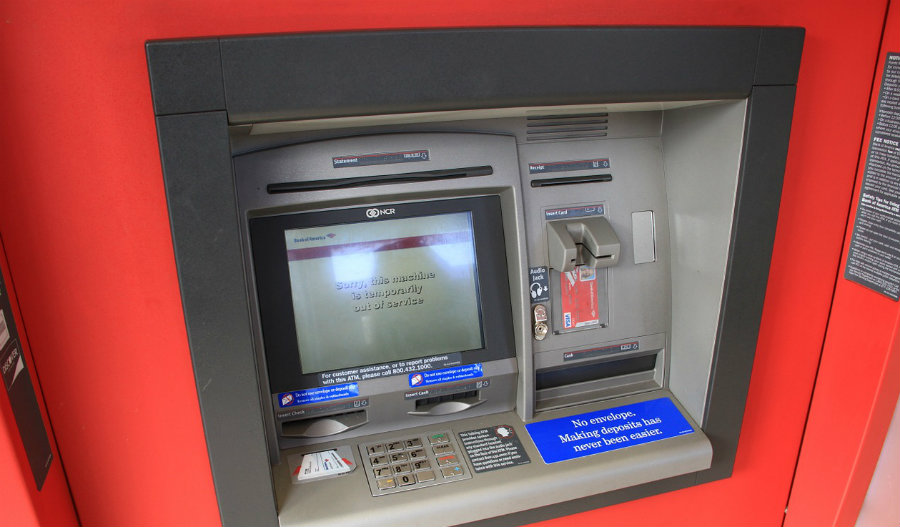 Other Costs to Consider
There are other costs when leasing an ATM machine. These increase the cost to rent an ATM machine thus it is essential to take these into account.
Phone or Internet Line – A phone or internet line is necessary to monitor the ATM machine. Aside from monitoring, a phone or internet line also provides additional security to the machine in cases of illegal transactions. Upgrading to a wireless connection would also have additional costs.
Professional Cash Loading Service – A professional cash loading service is needed to fill or refill your leased ATM machines. This ensures that the ATM never runs out of money and that the money in transit is secure. Some ATM companies, however, have this service together with their leased ATM machines.
Security Deposit – Some companies would require a security deposit in order to approve a lease. Typically, security deposits cost the same as a few months of the lease.
Receipt Paper – Receipt papers are a staple in the ATM industry. A roll would cost $50 upwards. 
Buying Tips
While far from being cheap, you could make the most out of your ATM machine rental price. It is always good to ask questions to the ATM company, however, these questions have to be strictly related to the lease. Study the lease contract diligently, as some companies will have hidden charges that you may not be aware of.
When it comes to training, make notes that you both understand and remember. Operating and programming an ATM machine has a rather steep learning curve. Take a note of the needed hardware and supplies, as well as the costs of each.
Choose carefully whether to connect your ATM machine to a telephone line or an internet line. As a rule of thumb, shared telephone lines are generally slower in transmitting information. The speed of information dictates if a machine will work properly or not.
ATM Machines Rental Cost Factors
Type of ATM Machine – there are several types of ATM machines that range in prices depending on features, technology involved, and ease of use. The higher the cost to purchase the machine, it follows that it is higher to rent.
Location – the cost of living and cost of doing business would always affect the prices being imposed by business and ATM rental companies are no different.
Traffic – placement of the machines in strategic locations where there are a lot of foot traffic would also increase the rental price. This is particularly true when the mode of rental is profit sharing or based on the number of transactions.
ATM Rental Company – different businesses would impose varying rates depending on their cost of maintaining the business.
Type of agreement – the mode of rental you agreed to pay would also affect the overall rental rate and while some terms on the agreement may be advantageous to some situations, it may not be applicable to others. It's really a case to case basis so it is still best to thoroughly research about any business venture before deciding.
DIY
While the installation of an ATM machine sounds complicated, DIY installations aren't unheard of. The advantage of DIY installations is that it minimizes the initial ATM machine rental price. ATM Depot provides a guide on this.
An ATM machine is basically steel safe that dispenses money. It weighs around 150 to 250 pounds or higher. As far as dimensions go, most ATM machines could fit inside the back of a van or a truck.
ATM machines have four hidden pre-drilled holes in the base. This is used to mount and secure the machine.
After transporting the machine, the next step would be to find a place that has a thick, level concrete floor. The concrete then has to be drilled precisely where the pre-drilled holes of an ATM machine are. Concrete anchors called red head bolts, typically 5" long and ½" thick, must then be hammered into the holes.
The machine must then be attached to the red head bolts and then thoroughly secured. After this, the machine must be connected to a 110 Volt/AC and then to either a telephone or internet line.
Connecting the machine to a telephone or internet line is taught during the training. This training and its fees are usually included in a company's installation fees. Thus, it is best to do a DIY after an ATM machine has been installed professionally and being trained by professionals.