"No man, not even a doctor, ever gives any other definition of what a nurse should be than this — devoted and obedient. This definition would do just as well for a porter. It might even do for a horse. It would not do for a policeman."
―Florence Nightingale
Florence Nightingale was the first to publicly decry the sorry reputation of nurses being a nurse herself. Decades have gone, but nursing still tends to be one of the most under-appreciated professions in the world.
That being said, about 3 million nurses make up the largest segment of the healthcare sector in the United States which makes nursing one of the fastest growing occupations in the country.
Bureau of Statistics reveals that 1.2 million vacancies for registered nurses will emerge between 2014 and 2022 and by 2025. The shortage is expected to be more than twice as large as any nurse shortage experienced since the introduction of Medicare and Medicaid. And it is not helping that there is a rapid increase in elderly population, not to mention the retiring nurses and whose place is not immediately filled, and an ever-growing population in general, in the United States.
Average Cost of Nursing School
The average tuition fee for a Bachelor of Science in Nursing (BSN) which is a four-year course is from $40,000 to $100,000 per year in large universities and private institutions.
If you do not want to pay as much, community colleges and trade schools are cheaper alternatives for BSN programs. The rates on such institutions are $3000 to $14,000 per year.
Factors Affecting Cost of Nursing School
Several factors that really matters are:
Credit hour – Some schools charge more per credit hour than others, and some facilities require more credit hours than others
In-state or Out-of-state student – Most public colleges charge lower to in-state RN students than those of out-of-state students.
Type of School – Universities tend to be more expensive than other types of schools like community colleges and trade schools.
Here are some samples:
In-state per credit hour – $72 to $82

Out-of-state per credit hour – $154 to $216

Average tuition per semester (full-time in-state students) – $864 to $1,019

Average tuition per semester (full-time out-state students) – $2,627 to $3,168
Additional Expenses
Nursing books – as nursing students, you are required to purchase textbooks that are related to your course which could be between $1,000 and $3,000 per year. But it can be reduced if you opt to buy second-hand books. Some schools also offer an option to rent out the books relevant to your course.
To give you an overview below is an example the average textbook expenses of nursing students with full-schedule in community colleges or trade school:
First semester – $1,086

Second semester – $60

Third semester – $100

Fourth semester – NA

Fifth semester – NA
Uniforms (including scrub suits, shoes, and tools) – students are required to wear their uniform  – $150 to $250. This is one-time-only unless any of these has been damaged or you have outgrown it.
Medical equipment – these include stethoscope, blood pressure apparatus, watch for pulse and heart rate monitoring, goggles, thermometer, etc. These cost around $300 to $500 (including the uniform) but these are usually one-time expenses since they can be used for the duration of the course unless they get damaged.
Health Insurance – ranges from $1000 to $4,000 per year.
Application fee /  Nursing Admissions Test – $50 to $100
Student Technology and laboratory – $10 to $16 per semester
Student's living expenses – these will depend on the school's location, whether the student is living at home or renting an apartment, and the schedule at school (whether the students goes to school every day or not). Food, shelter, and personal expenses range from $10,000 to $20,000 per year.
Miscellaneous – almost sure that you will be paying for various miscellaneous fees in addition to your tuition fees to attend any schools and universities. Some typical fees are as follows:
Student Support Fee – $10 per semester

Registration/Application  – $25 (one-time)

Student ID – Free to $5 (one-time)

Parking Sticker – Free to $10 per school year

Graduation Fee – Free to $25 (one-time )

Liability Insurance – $16 to $35 per school year

Healthcare Program Physical and TB Test – $150 to $200 (one-time)

Vaccinations – varies depending on what you need

Criminal Background Check – $65 to $115 (one-time)

Health Care Name Tag – $1 to $2 (one-time)
Where to Find?
It is better to check out different institutions in your area. You may also want to get help from these sites: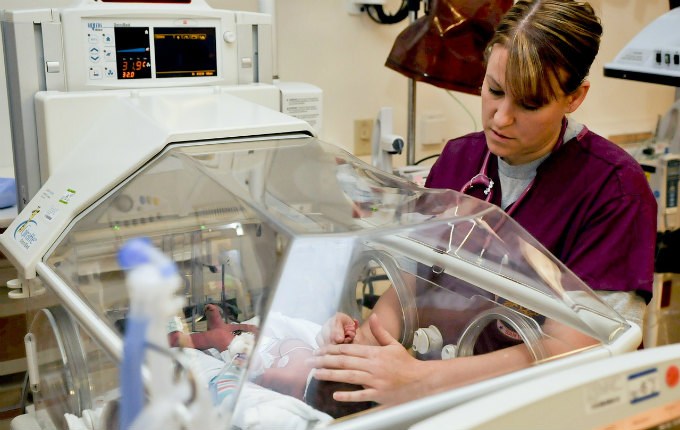 Online Nursing Course
Some prefer online school since ground schooling entails a lot of supplemental costs such as housing, food, transportation and personal expenses for students. Not only it allows convenience by allowing students finish their degree at their own pace, but also minimize costs associated with studying on-campus. This mode also allows them to have more time and opportunity to work to earn money and do the coursework afterward.
However, while some online nursing courses offer lower tuition fees, this is not always the case. Distance education program by large universities charges the same rate as they do with their on-campus courses.
Based on U.S. News and World Report, the average per-credit tuition rates for in-state students for 2015-2016 ranged from $50 to $1,863. Out-of-state ranged from $167 to $5,925.
Other Option
Since a lot of college student and nurse wannabes cannot afford to go college and universities or sustain when already in due to the high cost, they rely on financial aid. Schools usually have offices that deal with the different financial aid affairs of the students which could range from inquiring about merit-based scholarships to need-based financial aid. Some schools also work hand in hand with outside organizations which offer financial help to aspiring nurses.