A garage door protects your car and beefs up your home security. That said, this essential role makes the said part of the house prone to damages and breakdown. Fortunately, you can always replace it with a new one.
Average Price For Installing A New Garage Door
Here are sample average costs:
Home Advisor
Average: $1,063 (ranges from $730 to $1,420)
Low-end: $300
High-end: $2,000
FixR
Average: $500 to $800
Low-end: $400
High-end: $3,500
Note that the above averages were based on the calculation of costs curated by each website.
Cost Breakdown
The price presented in this guide includes the main item plus professional installation. That said, how much will you spend for these components?
Garage Door
In short, you can start at around $200 and compute from there.
There are factors that can help you with your calculations. For instance, the exact quote will depend on the material, style, and whether you'd prefer the basic or fully customized type.
Professional Installation
According to Thumbtack, the average cost of hiring a garage door specialist is $512, with the varying prices ranging from $85 to $1,000.
You can request an itemized quote from your preferred company to get the exact cost. If you're buying from a garage door manufacturer, they often include the installation fees in the total.
Note that most installations of new garage doors involve the following:
Electrical wiring
Removal and disposal of the old garage door
Purchase of new tracks, associated adhesives, connectors, and fasteners
Sample Prices
Shopping for garage doors online can further give you an idea of the varying prices. For instance, Lowe's has pre-made products of which cost starts at around $600. Menards, on the other hand, offers items starting at $500.
Take note that the more expensive garage doors are wider, have multiple doors, and are available in different colors. The pricier types will be as much as $1,000 and up.
Sample Calculations
Another way to determine the cost not only of the garage door but also of the installation as a whole is by using an online calculator.
For instance, Homewyse.com has the following computation for a garage door installation in New York:
Garage door (single): $525 to $792
Labor: $393 to $638
Job supplies: $18 to $20
TOTAL: $935 to $1,449
Note that the costs projected on the said site are only estimates based on average prices in each location. Thus, you can only use the results as a guide and not as a reference for exact figures.
Additional Costs
To make sure that you'll have enough budget for the installation, you should know the possible additional costs. These include:
Removing and disposing of the old door and hardware
Resizing the opening
Replacing hardware
Reframing the exterior
Installing the electrical opener (prices at around $100 to $400)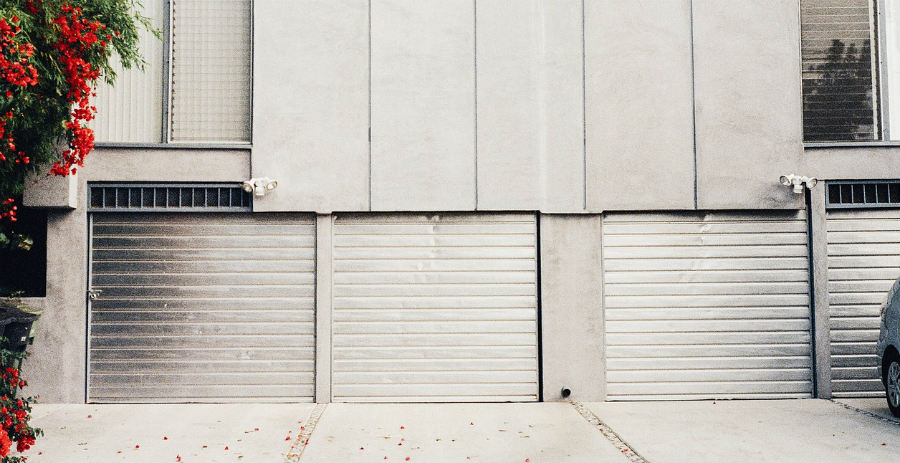 Though considered as additional services, some companies may include a few of these tasks in their package. That's why it will be a big help to ask for a detailed quotation from your service provider. Also, be sure to ask them about the exact prices in the event that they will charge additional fees.
Looking For Products Online
What else should you do aside from choosing the garage door and installer? Well, you can check Amazon for products that will make utilizing your garage door a lot easier. A helpful item for your garage door is the sensor. 
Money Saving Tips
Replacing your garage door does not always require professional installation. To save money, you may opt to perform a DIY. For instance, you can ask the manufacturer you're buying from about installation instructions. From there, you may determine if you can do the job yourself or if you will be needing an expert.
Another way to save money is by comparing prices from at least three different companies. Make sure to request a quote along with the figures. That way, you can assess which among the providers will be most cost-effective to hire.
Another thing you should consider is that not all garage doors need replacing. Sometimes, maintenance and a bit of repair will solve the problem.
Think about long-term savings. For instance, look for garage doors that will last at least 5-10 years. Such products will save you money in the long run.
Saving money aside, installing a new garage door is a good investment. According to Home Advisor, the said home improvement project can yield about 84 percent in resale value.