One of the most popular brands in the world of kitchen cabinets, KraftMaid, may be something that you are already familiar with. With their cabinetry made to order, their works are, as expected, just the way you imagined perfect cabinets to be. Add to that, they also boast of the durability of their wares.
KraftMaid kitchen cabinets have varying designs. Whether you like it classic, or modern, your kitchen can be as beautiful (and efficient) as you want them to be in just a matter of time. Once you have made your color and design preferences known to the local dealer, it would take KraftMaid four to six weeks to have your hand-made kitchen cabinets readied and delivered to you.
But how much do KraftMaid cabinets cost?
KraftMaid Kitchen Cabinet Average Cost
The cost of KraftMaid cabinets varies depending on a lot of factors. One of the main cost influencers is the size of your kitchen. Obviously, the bigger the kitchen is, the higher the price will be.
Most cabinets are priced according to linear foot. At KraftMaid, it would cost you anywhere from $100 to $300 per linear square foot.
On the average, you are most likely to spend around $10,000 to $15,000 on your kitchen upgrade. It would already cover the cabinets and their installation. Sometimes, the cost of KraftMaid cabinets can go up to as much as $25,000 or even more than that, especially with the use of expensive wood like oak; and especially if you have a bigger-than-average type of kitchen.
In addition to that, KraftMaid accessories can cost you anywhere from as low as $29 for a cutlery divider kit to as much as $467 for a base cookware storage roll-out.
Inclusions
KraftMaid cabinets are made-to-order, depending on your specifications. The company calls it Kitchen-at-a-Time (KAAT).
KraftMaid has more than 70 finish options, 200+ solutions, and more than 800 decorative enhancements which include lighting, accents, and glass doors.
KraftMaid promises you durability. They are very confident with the quality of their work that they even offer a lifetime warranty on their products. As long as you are the original purchaser of the cabinet, and as long as you still own the cabinets, they give you warranty.
Other Costs to Consider
When installing your KraftMaid kitchen cabinets, some additional costs could be attributed to decorative enhancements like lighting. This would cost you about $20 to $45.
Prepare to shell out more if you plan on adding glass to your cabinet doors.
Wood is the most common material being used for cabinets. When cleaning wood, use a lint-free cloth which would cost you about $8 to $15. An emulsion-type cleaner is about $20 to $30, depending on the brand, and a glass cleaner would be around $12 to $20 a bottle. The price, of course, depends on the brand and the size of the bottle.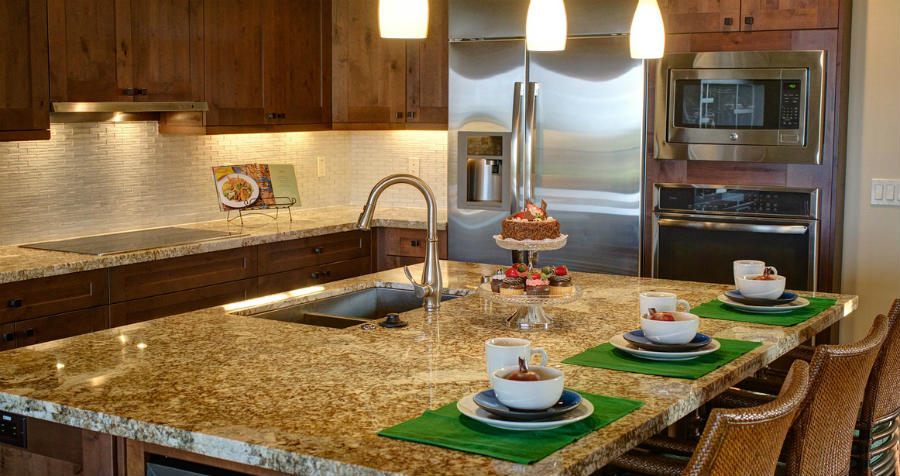 Buying Tips
KraftMaid does not sell kitchen cabinets online, nor do they sell it directly from the factory. They, however, have about 3,500 retailers scattered all over the US. You can look for a dealer near you by using KraftMaid's retailer locator. And once you find a locator in your area, you can give them your details – color preference, style, and size of your kitchen – and get a quotation.
If the quoted price is not to your liking, either you look for another retailer, or you can also try tweaking your preferences. List down all of the specifications that you initially needed, and identify whether you can eliminate some of those that you don't need as much.
When choosing which KraftMaid retailer to deal with, you may find that style names differ from one store to another. This is normal. When shopping for KraftMaid kitchen cabinets and you have something in mind, just make sure that you have a photo with you so the retailer would be able to identify which style it is that you want.
If you are living in Ohio, you can check out a KraftMaid outlet in Warren that schedules a sale of very cheap KraftMaid cabinets. It usually happens about a couple of Saturdays per month, displaying returns from home improvement stores from all over the country. And as previously mentioned, these are being sold cheap.
There is no guarantee that you will be able to find what you really wanted but if you have flexibility in terms of what you want to put into your kitchen, you may find something similar. Prices could be for as low as $5, depending on the item.
Before you go to Warren, make sure to know the size of the area you need the kitchen cabinets for. You also need a measuring tape, markers, and mailing labels with your name on them (tape would also do). Also, make sure to come early, like before 7 AM.
No time to shop? You can also check out The Cabinet Shopper who will do the shopping for you; for a fee. Depending on the service, the fees would range from $35 for a one-time shopping for roll-out trays to $45 as payment for every trip to the sale. You could also check out his KraftMaid cabinet price list for more details.
Aside from the outlet store and local retailers, you may also check out Lowe's and Home Depot for your KraftMaid needs. See their website, or visit the store nearest you for your KraftMaid cabinet price list.
To get an idea of how much your kitchen upgrade would probably cost, you can check Home Decor's cost estimator. You can specify the size of your kitchen, the color of your choice and the shape of the kitchen and the estimator would give you an estimate of your dream kitchen.
If you prefer KraftMaid brands for cleaning, you can check out with your local retailers. In addition, retailers may also be selling heat shields that can be installed on the side panels of an oven cabinet. This is to help deflect excess heat from the connecting cabinets.
KraftMaid Kitchen Cabinet Cost Factors
When talking about KraftMaid cabinets cost, size always matters. The bigger the size of the kitchen, the more cabinets you need. The more cabinets you need, the higher your cost is. An average-sized kitchen may need as much as 30 cabinets, and with each cabinet costing about $300 to $500 or even more, you could possibly shell out anywhere from $9,000 to $15,000.
The same story is true when getting cabinet accessories from KraftMaid. A 12-inch spice cabinet would cost you $63 while its 36-inch wide version would cost you $77.
The type of wood could also impact your total cost. At the outlet store sale in Warren, a kitchen set of natural cherry costs $2,100 while the same kitchen set of Irish glaze maple costs $1,300.
Retailers also offer discounts. For example, GoodLife Kitchens in San Francisco, California offers a $250-discount when you key in a code. You can get the code from their website.